I've got the 5 best mystery books to curl up with this month and I think you and your Kindle are gonna love all of them. I don't know about you, but where I am the nights are getting pretty long and chilly. It's the perfect time to grab a steaming cup of coffee, cocoa, or tea (or maybe a glass of wine) and curl up in front of a fire or under a blanket and get cozy with a good mystery. Mysteries are my favorite genre. I write them, I read them, I love them.
Thanks to COVID, the pickings on TV are slim and there aren't any new movies in the theaters at all. What better time to stay home and enjoy a good book? The 5 books I'll share with you are all available either as physical or Kindle books. Two of them I read so many times, the paperback book fell apart. Thank goodness for eReaders!
All 5 books are mysteries but they are very different. One in nearly 100 years old and considered a classic and one has a paranormal twist. There's a traditional English cozy mystery in there and even a story set on a farm in Ohio. 
Let's check them all out.
Tea With The Black Dragon
Let's start with the best book you've never heard of, Tea With The Black Dragon by R.A. MacAvoy. I first read this book in college. I'd never read anything quite like it before, and I've never read anything quite like it since. The title sounds like it might be a martial arts movie or an episode of Game of Thrones. I promise you, it's a straight-up mystery that you won't be able to put down.
It's about Martha Macnamara, a 50ish musician in search of her missing daughter in 1980s San Francisco. She meets Mayland Long, a mysterious wealthy Chinese businessman and scholar, who also claims he's actually a dragon.  This is part fantasy, part mystery, part romance, and completely marvelous. I read my first copy of this into little pieces and was delighted to find that it is finally available on Kindle.
I definitely suggest reading this with a good cup of Oolong tea.
The Thin Man
Up next on my list is The Thin Man. It's a slim volume, so an avid reader might be able to get through it in a day. But, wow! Even if you've seen the movies, this 1934 classic will be a revelation. If you tend to think of the 1930s as a more innocent time, you might be a little bit shocked.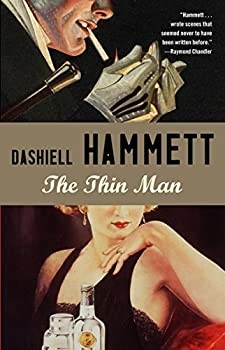 This dialogue in this book is some of the best ever written. The witty, liquor-fueled, non-sentimental romance is among my favorite love stories. Hard-boiled retired private dick Nick Charles and his young, socialite wife are a force to be reckoned with. And the mystery is a good one, too. You'll probably want to spike your hot drink with a stiff shot. That's what Nick and Nora would do.
This is another book, I managed to completely destroy in its paperback version and am not thrilled to have living on my Kindle.
Marriage Can Be Murder
A recent discovery is 
Marriage Can Be Murder
, a sweet and cozy English countryside mystery set at the beginning of WWII.  What makes this delightful read one of the 5 best mystery books available for Kindle? So many things. The attention to historical detail makes this book not only interesting but educational.   The budding relationship between a young doctor who has been severely injured both physically and emotionally and an awkward, eccentric noblewoman is funny and touching.
It's an easy, fun read that will make you feel as if you're watching one of those really great British series on Mystery. And there's a sequel!  This definitely calls for a hot cuppa.
Midnight Riot
And now for something completely different!  If Marriage Can Be Murder feels like a show from PBS, Midnight Riot feels like a show that might come on after Doctor Who on BBC America. It's like a cross between Luther and Harry Potter.  It feels like you're getting a real look at contemporary London and its police force… only there's magic… and ghosts…and scary stuff.
This book never forgets for one moment that it's a mystery. This book and its sequels create a compelling, yet believable, world where the paranormal becomes a part of everyday police work. You'll want a spot of tea with this one or perhaps a pint.
American Goth
And now I'm going to toot my own horn and suggest that you check out American Goth, the first book in my very own Goode-Grace Mystery Series. Why?  It's an easy, warmhearted read that introduces you to two of my favorite characters, Goth-chick artist Trinity Goode and straight-laced deputy sheriff Bobby Grace.
Trinity thought she'd left her small town behind for life as a big-city Goth girl. But when her beloved grandfather dies in a bizarre accident, she heads back to the family farm. A mysterious cult has set up shop next door but it's Trinity the whole town is gossiping about. When another "accident" claims a life, she's determined to uncover the truth with the help of hunky Deputy Bobby Grace.
If you enjoy a good series, you'll be glad to know this is just the first of four books with the fifth in the works. It's also the only book on this list available for Kindle Unlimited.  You'll want to have this one with a good hot cup of coffee, just like the coffee that keeps the main characters going in the book.
So, find a cozy spot and get comfy with a hot beverage and one of the 5 best mystery books available for Kindle.